2018 Ford C-Max Introduction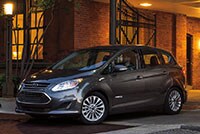 The Ford C-Max, introduced for the 2013 model year and now in its sixth season, comes in Hybrid and Energi plug-in hybrid forms. There is no regular gas-engine variant.
The tall, compact hatchback gave Ford a contender against the popular, fuel efficient Toyota Prius. It is now a dated product. Except for two new colors, nothing has changed for the 2018 model year. A rearview camera became standard equipment for 2017.
The Hybrid version uses a 2.0-liter four-cylinder gasoline engine that works with a two-motor hybrid system, to generate 195 combined horsepower. In moderate low-speed driving, the 1.4-kWh lithium-ion battery lets the Hybrid travel about one mile on battery power alone.
The Energi version is a plug-in hybrid with a larger 7.6-kWh battery that provides an EPA-estimated electric-only range of about 20 miles, reaching as high as 62 mph. Several other plug-in hybrid models on the market have longer battery-only ranges.
Both will keep going as long as gasoline is in the tank.
Spacious and comfortable, the C-Max Hybrid lags a bit in fuel-economy estimates when compared to its hybrid-powertrain rivals. Each version has front-wheel drive.
SE and Titanium trim levels are available in both Hybrid and Energi versions.
Bulging a bit here and there, the hatchback body sits atop a foundation adapted from the Ford Focus hatchback. C-Max is considerably taller than Focus, on the order of a small minivan. Small tall cars have been popular in Europe, where the C-Max originated, but it never caught on in the U.S.
Crash-test ratings have been just passable. The National Highway Traffic Safety Administration gave the 2018 C-Max four stars (out of five) overall, with four stars for the frontal crash and for roof strength, but five stars for side-impact protection. The Insurance Institute for Highway Safety gave the 2017 C-Max its top rating: Good in all tests except the difficult small-offset frontal crash, which yielded a second-best Acceptable score for the driver (no rating for the passenger).
Blind-spot monitoring is standard, but Ford offers no advanced safety features for the C-Max.