2017 Ford Fusion Hybrid Introduction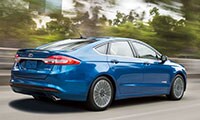 The Ford Fusion Hybrid and the plug-in Fusion Energi version look and behave like their regular counterparts. The main difference is that Instead of a conventional gasoline-engine powertrain, they get a smaller gas engine, working in concert with an 88-kW electric motor.
The Fusion Energi can be plugged into a wall outlet to recharge. The included charger can recharge a fully depleted battery pack in as little as 2.5 hours. A door in the left front fender opens to reveal the charging port. The Energi plug-in has a range of 19 miles on battery power alone.
The two battery/gasoline Fusions share a 2.0-liter four-cylinder engine, which develops 141 horsepower and mates with an electronically controlled continuously variable transmission (CVT). Total system output is 188 horsepower. In the Hybrid's trunk is a 1.4 kWh lithium-ion battery pack. A bigger, higher-capacity (7.6 kWh) battery pack goes into the Energi model. An EcoGuide provides real-time information on driving with the greatest efficiency.
The current-generation Fusion was launched for the 2013 model year, along with the Hybrid and Energi models.
The sleekly elegant Ford Fusion is among the best looking of the midsize sedans. 2017 Ford Fusion models get a slightly revised front end with a wider grille, plus interior upgrades. Inside, the console has been revised for 2017 to include a rotary drive-selector knob, permitting a bit more storage space up front. Also new is the 2017 Fusion Platinum trim level.
A newly available suite of active-safety systems includes a lane-keeping system that supplants the prior lane-departure warning, pre-collision assist with pedestrian detection, drowsy driver alert; and adaptive cruise control. Park Assist now helps with both perpendicular and parallel parking.
Safety ratings have been good, though not class-leading. The National Highway Traffic Safety Administration gave the Fusion its highest (five-star) rating for overall safety, plus five stats for the frontal crash test. However, side-impact testing produced a four-star score. The Insurance Institute for Highway Safety has gives the Fusion its top (Good) rating in every category, declaring it a Top Safety Pick+.