2017 Ford Fiesta Introduction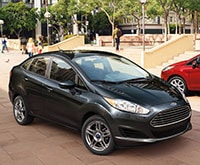 The Ford Fiesta subcompact is fun to drive, having impressive steering and handling, with a nimble and maneuverable feel. Its design is bold and spunky, at least in the popular five-door hatchback. There's also a four-door sedan that looks ungainly and skinny compared to the five-door. There's a sporty turbocharged ST five-door with tweaks that make it look stylish and a bit racy.
Base engine is a 1.6-liter four cylinder making 120 horsepower that isn't quick but feels peppy enough with the 5-speed manual transmission if you keep the revs up. The Fiesta only weighs 2600 pounds so that helps. There's also an available 6-speed dual-clutch automatic manual that we don't much like.
There's also a tiny 1.0-liter three cylinder, that with turbocharging makes 123 horsepower and 148 pound-feet of torque. We find this engine enjoyable. You have to keep the revs up, and if driven aggressively it can win fans. It was designed to be a fuel miser, and is especially popular in Europe. We got 41.9 miles per gallon on a 350-mile road trip that was two-thirds highway and one-third city.
The Fiesta ST is a true pocket rocket. Its 1.6-liter turbocharged engine makes 197 horsepower and 214 impressive pound-feet of torque, in its overboost mode. It comes only with a 6-speed manual transmission, and has performance improvements to the suspension, steering and brakes. It rides on summer performance tires, and is a blast to drive.
For 2017, the only major change is to the top Titanium model, which loses its manual transmission and gets the PowerShift 6-speed twin-clutch automatic manual.
The 1.6-liter engine is EPA-rated at 28 city, 36 highway and 31 combined miles per gallon with the manual transmission. The overachieving 1.0-liter three cylinder gets about 5 mpg more, at 31/43/36 mpg with the 5-speed. The ST gets 26/33/29, pretty darn good for a hotrod.
The NHTSA gives the Fiesta four stars overall in crash tests, with five stars for side impact. The IIHS gives it the best Good score in large frontal, side, rear, and roof-strength tests. In the small frontal offset test it earns a Marginal rating.